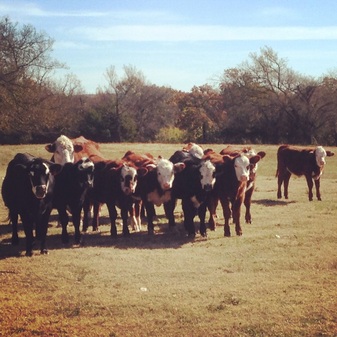 Pasture Raised Beef
-Here at C&C Farms we raise a small herd of cattle, around 30 head. We have a two fold operation, first and foremost is our Retail Beef operation and second is our Registered Hereford Sales Operation.
Our Retail Beef Operations provides us the opportunity to provide you will a healthy alterative to the commercial feedlot beef industry. Our beef is not "grass-fed", as we do supplement our calves for a short time during weaning. We provide an all natural alfalfa pellet and ground grain mix in a creep feeder for the babies during this stressful time. This free choice option seems to help the calves thrive during the end of the grass season.
We sell a few Registered head every year depending on the production that we get from our Registered cows. Our Hereford lines are based on Durham Ranch stock. If you are interested in Registered Breeding stock contact
Farmer Chris
for details.
Our adult cows never leave the farm until they are headed to be processed, so no gross feedlots, no hormone implants, or antibiotics, just simply the ol' way our grandparents raised their beef cows.-
Next harvest will be in March reserve your Pasture Raise Beef Now.
---